Host Your Wedding
at Banner Ranch Julian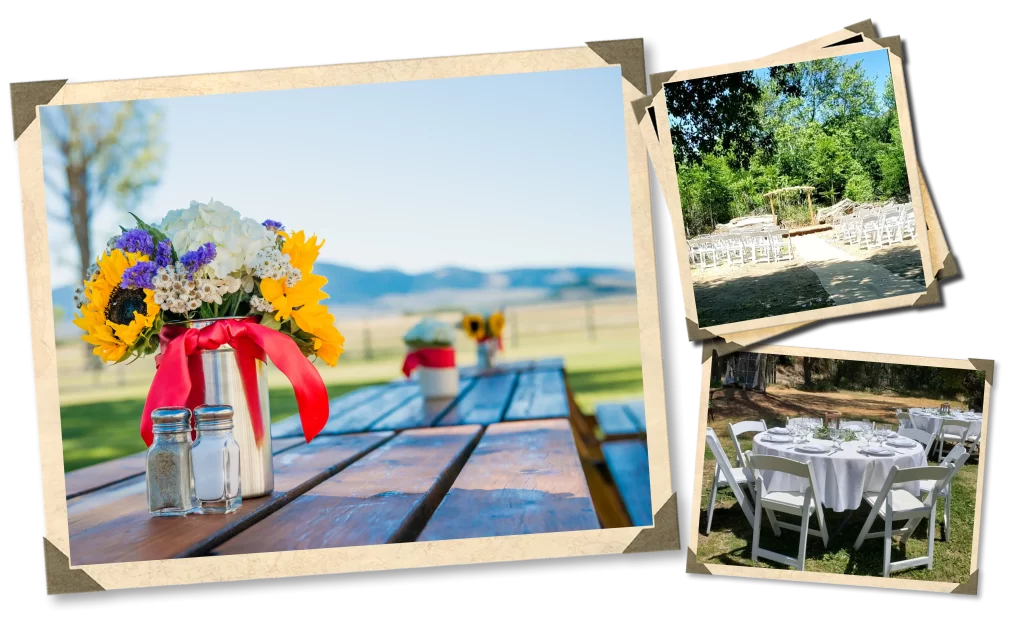 Banner Ranch Julian is a 62-acre rustic Wedding Venue in East County San Diego. We've been making dreams come true with our incredibly beautiful venue and unique, one of a kind accommodations. We believe that every couple deserves the wedding of their dreams. Contact us to learn how we can make your special day everything you've dreamed of… and more.
At Banner Ranch Julian, we can bring your wedding and special event ideas to fruition. Our picturesque rustic wedding venue offers everything you can dream of to ensure a memorable experience for you and your guests.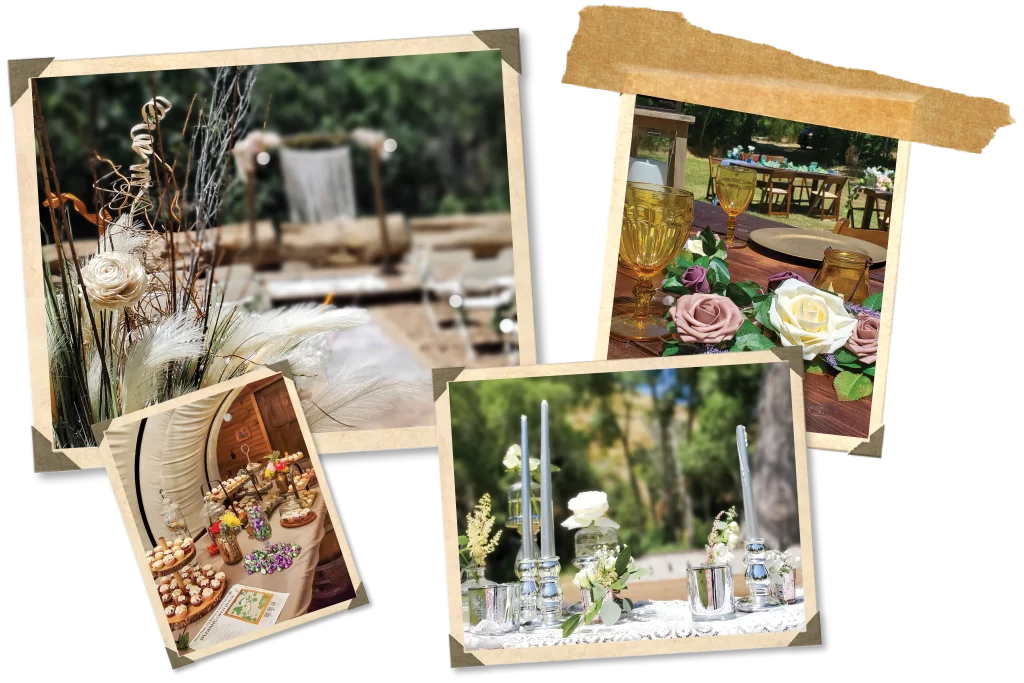 Our Julian venue offers everything you'll need to create a beautiful event to remember forever. We'll be here every step of the way to make sure everything turns out just the way you like. Trust us with the details so you can relax and enjoy yourself. We guarantee you won't be disappointed.
Banner Ranch Julian is committed to excellence both as a stunning venue space and with the services we provide. Clients can choose from our event hosting options, or customize their own. When you celebrate your special occasion with us, we'll accommodate all of your needs.
Day-of Wedding and
Event Coordination
Our day-of wedding and event services are perfect for making your special day run exactly how you envision it. We will manage your vendors arrival & set up, in addition we will make sure that you have everything you need to have peaceful and memorable day.
Day-of Coordination options along with our venue's staff will help make your proceedings run seamlessly and enjoyably.

The Nugget Package (Ceremony Only)
$3,995
Use of Meadow Only from 10am-4pm
Tables/Chairs/Linens for up to 30 people
Table Centerpieces (3)
Platform, Arch and Burlap Aisle Runner
Acrylic Welcome Wedding Sign with Chalk Personalization
(Max Capacity: 30 people.)
$9,750

Complimentary Services + Overnight stay which includes:
Two wagons plus camping space
Max 30 overnight + 70 attendees
$120 for each additional table of 10 people
Sweetheart Table with Settee
6 foot table with 2 Barrels
Galvanized Stock Tank
Mason Jar Beverage Dispenser
Single Wine Barrels (2)
Platform, Arch &Burlap Aisle Runner
Acrylic Welcome Wedding Sign with Chalk Personalization
(Max Capacity: 100 people.)
$11,995
Complimentary Services + Two night stay which includes:
Two covered wagons plus camping space
RV camping
(without hookups)
Ranch House (2 nights)
Max 40 overnight + 150 attendees
$120 for each additional table of 10 people
Bridal Reveal Doorway
Platform, Arch & Burlap Aisle Runner
Acrylic Welcome Wedding Sign with Chalk Personalization
Bridal Suite Conversion
Groom Quarters
Marquee LOVE letters (2ft tall)
Inflatable Axe Throwing (4 hours)
(Max Capacity: 150 people.)
| | | | |
| --- | --- | --- | --- |
| Sweetheart Table with Settee | Includes Table & Settee | $65 | Included in Quartz |
| Bridal Reveal Doorway | Wow your guests with a big reveal before saying "I do" | $250 | Included in Gold |
| Bridal Suite Conversion | Includes Furniture Removal, Full Length Mirror, Vanity, Settee, Dress Rack & Light Refreshments | $350 | Included in Gold |
| Groom Quarters | Suite Rack, Drinking Games, Light Snacks & Large Banner Gold Moonshine | $265 | Included in Gold |
| Covered Wagon Furniture Removal Only | We will remove all furniture from the covered wagon so you can use it as photo booth, cake display, etc. | $150 | Optional |
| 6 foot table with 2 Barrels | Perfect for gifts or to display your cake! | $125 | Included in Quartz |
| Galvanized Stock Tank | Holds Ice & Canned/Bottled Beverages | $40 | Included in Quartz |
| Mason Jar Beverage Dispenser | Perfect for water, lemonade or tea during your cocktail hour | $25 | Included in Quartz |
| Chaffing Dish – 8 quart with Sterno | Keeps food warm for your guests | $28 each | |
| Moonshine Shots Tower | Includes tower shelf setup with sign, disposable shot glasses with one shot (per glass) of Banner Gold Moonshine | $6 per guest | Optional and will require bartender to serve |
| Marquee LOVE letters (2ft tall) | Show your love in lights as the sun sets | $40 | Included in Gold |
| Banner Gold Moonshine Mini-Jar Wedding Favor | Customization available for additional fee | $10 per guest | |
| Caja China Box Rental | Whole pig roasting box. Charcoal available for additional fee. | $300 | |
| Whole Pig for Roasting in Caja Box | Whole pig roasting box. Charcoal available for additional fee. | $700-800 | |
| Candy Buffet | Includes 2 barrel 6ft table, all candy jars, scoops, candy, cello bags and minimal decorations | $10 per guest | |
| Candy Buffet with Donut or Mini Cupcake Bar | Includes 2 barrel 6ft table, all candy jars, scoops, candy, cello bags, donuts or cupcakes and minimal decorations | $12 per guest | |
| Table Centerpieces | Current available options are: Mason Jar Centerpieces with fairy lights or faux flowers, Eucalyptus Garlands, Rustic Wood Lanterns with fairy lights or LED Candles, Manzanita Branch Centerpieces, Premium Faux Flowers Ling's Moment Garlands or Miner Lanterns (choose from all fire engine red, all sage green or assorted colors) | $15 per table | |
| Single Wine Barrels | Great to use for displaying pictures, guest book, etc. | $45 each | Included in Quartz |
| Arch Flowers, Aisle Flowers & Welcome Sign Flowers | Lings Moments premium artificial floral arrangements & sheer swag | $275 | |
| Farm Table 8'x42″ | Have all of your wedding party together! | $75 | |
| Acrylic Welcome Wedding Sign with Chalk Personalization | Welcome your guests in style with a personalized wedding sign. (Vinyl lettering on acrylic or wood signs available for additional fee based on size, starting at $50.) | $25 | Included in All Set Packages |
| Inflatable Axe Throwing (4 hours) | Enjoy axe throwing during your reception. | $175 | Included in Gold |
| Inflatable Movie Screen with Projector | Great to use for slideshows or set it up to keep the kids in attendance entertained while the adults dance the night away! | $250 | Optional |
| Movie Style Popcorn Machine, Cotton Candy Machine or Snow Cone Machine | Popcorn/Bags, Cotton Candy Supplies and Snow Cone Supplies available for additional fee. | $100 each or all 3 for $260 | |
| Lawn Dominoes, Lawn Jenga, Lawn Connect 4, Yardzee (like Yahtzee but bigger), Lawn Toss or Cornhole | Keep the good times going with games to keep your guests entertained | 3 games for $100 or 6 games $160 | |